Newcastle
Commercial Roofing
An experienced provider of quality commercial roofing in the Newcastle area, Lidoran group has been repairing, restoring and building roofs for over 25 years, making us one of the most experienced roofing contractors in the area.
At Lidoran Group we have worked hard to find the balance between building large scale industrial roofing projects with paying attention to the small details, to ensure that you get the best quality services every time.
Our services are tailored to each client's individual needs and due to the number and scale of roofing work we take on every year we can provide extremely competitive pricing and are always willing to negotiate for your business.
Our Newcastle roofing services include roof restoration, roof replacement and asbestos roof removal.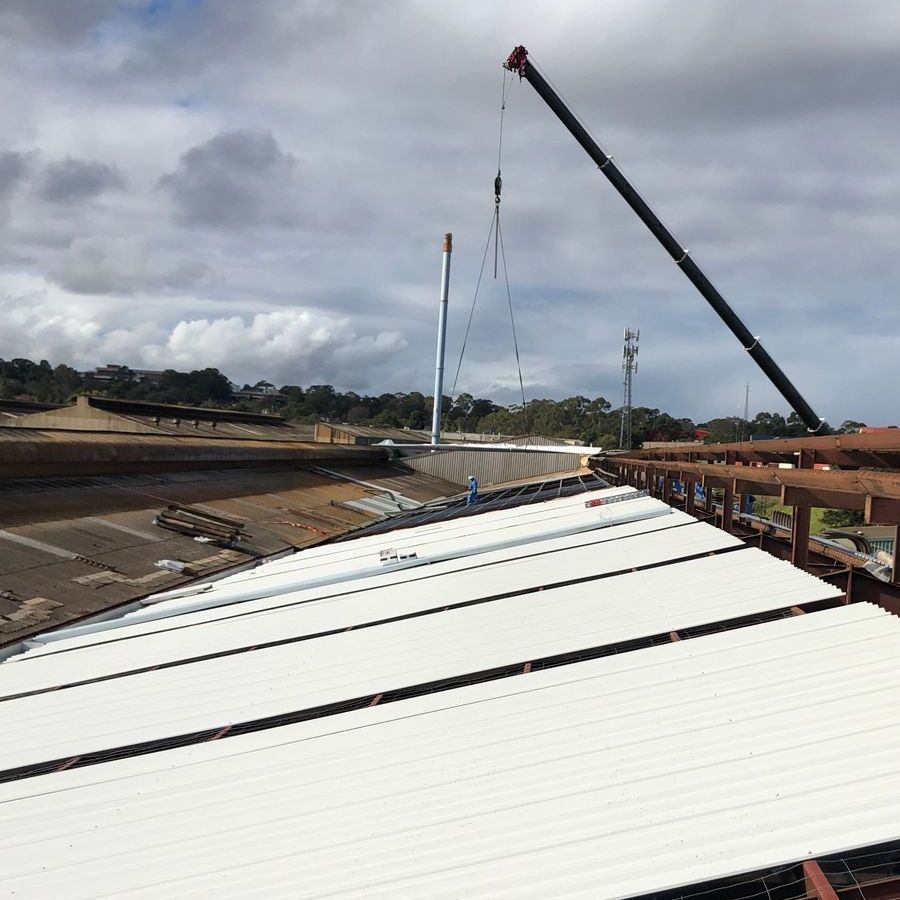 Roof Repairs
Newcastle
Our roof repair and restoration offerings in Newcastle are specifically aimed at restoring the integrity of your roof and catching any new issues early before they become major problems. Our roof restoration and repair services include:
Roof inspections & cleaning:

Regular inspections of the roof are important for catching issues early, particularly for commercial businesses where roof issues might cause serious delays. Aside from roof inspections we also offer roof cleaning to get rid of any growth or debris that might be impacting your roof.

Protective coatings:

Lidoran group offers a number of protective coatings that can help extend the life of your roof by protecting it from oxidisation, damage from moisture and UV radiation from the sun.

Roof repair:

Our inspection might unveil some issues with your roof in which case Lidoran Group is capable of repairing the roofing issues while respecting the need for your business to continue work as much as possible.
Roof Replacement
Newcastle
Sometimes roof repair and maintenance is not enough and a roof needs to be replaced to ensure the integrity of the building as a whole. Lidoran Group is a certified reroofing provider in Newcastle offering quality roof replacement with the speed and efficiency that has made us famous around Australia. Our roof replacement services are:
High quality.

Our major focus at Lidoran Group is to ensure that each and every project we provide is the same high quality output, to give your businesses the best roofs on the market.

Fit around your schedule.

Our team is capable of deploying across New South Wales and willing to work any time of year including holidays.

Price competitive.

Our prices are highly negotiable and our large scale means that we can be extremely competitive with our quotes.
Asbestos Roof Removal
Newcastle
Asbestos roof removal takes a highly trained team to do right. Lidoran Group is highly certified and offers 25 years of experience in the field at removing asbestos safely. Our services include surveillance of the affected area, efficient roof asbestos removal and replacement of the asbestos roof with a brand new one. Our services are safe, efficient and focus on replacing your roof with minimal disruption to your business or processes.