Wollongong
Commercial and Industrial Roofing
Over the last 25 years Lidoran Group has become one of the most recognisable names in Commercial and Industrial Roofing in Wollongong. Our strong brand recognition comes from our reputation as a reliable and high quality roofing provider, capable of performing large scale projects with fantastic service and attention to detail.
Lidoran Group is one of the largest commercial and industrial roofing contractors in Wollongong, which allows us to pass on a number of benefits to our clients, including our ability to complete large scale projects with a dedicated team, provide services year round including during holiday periods and the ability to offer extremely competitive quotes for the work that we perform. It is the strength of having a large team, combined with our strong values of quality, personalised service that has been our greatest strength over the last two decades as a roofing provider.
Our commercial and industrial roofing services in Wollongong include repair and restoration, roof replacement and asbestos roof removal.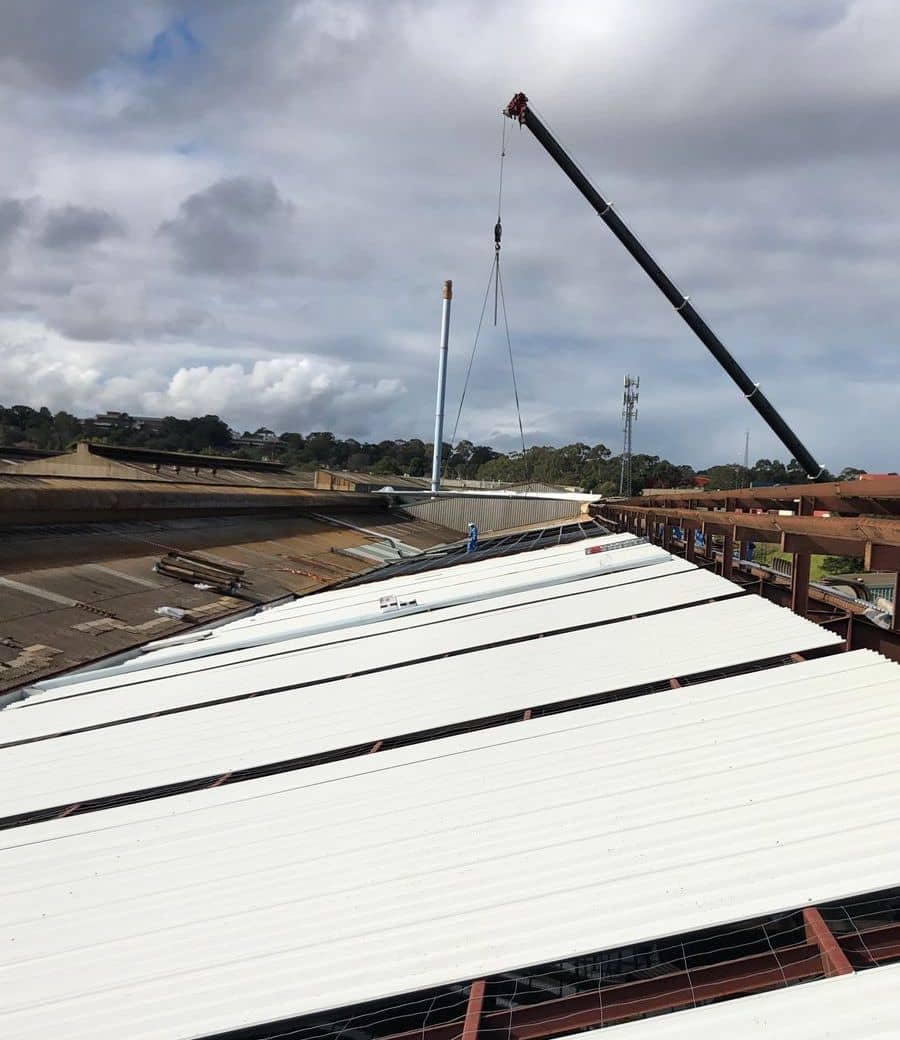 Commercial & Industrial Roof Repair
Wollongong
Roof repair and maintenance is a vital part of maintaining the integrity of your commercial or industrial space. Lidoran Group Wollongong roof repair and maintenance include:
Roof inspection and cleaning: As a part of your building that is so out of the way, it can often be difficult to tell when something might be broken or damaged until it is too late, therefore, professional roof inspections should be a regular part of your maintenance routine. Our professional roof inspections will ensure that your roof is in tip top shape, while our cleaning crews will take care of any worrisome debris or build up that might damage it in the long run.
Roof painting: Renewing the paint on your roof should be a top priority for anyone looking to improve the life expectancy and durability of their roof. Our painting services are serious protective coatings that are designed to offer an added layer of defence against weathering and impact.
Roof Repair: If your inspection finds any damage that needs a more serious repair, Lidoran Group is fully qualified and highly trained to provide an efficient, high quality fix for any roofing issues you might have.
Roof Replacement
Wollongong
If your roof is beyond a simple repair and restoration then you might want to start considering a roof replacement. Lidoran Group roof replacement services are:
Guaranteed quality. Our roofing solutions are high quality construction performed by a highly trained team that is dedicated solely to providing the best commercial and industrial roofs available on the market.
Exceptionally priced. Because of the size and popularity of Lidoran Group services we are able to give our clients competitively priced services that don't skimp on quality or efficiency.
Flexible to your schedule. Our team work year round, across Australia, even during the holidays.
Asbestos Roof Removal
Wollongong
Asbestos is a hazardous material and needs to be handled by a trained, experienced professional. Lidoran Group is a certified asbestos roof removal expert in Wollongong. We have a long history of removing asbestos roofs safely from the premises and substituting it with a brand new roof that provides a safe, high quality replacement.